"CD" Online Edition!
Classis
Report
Amidst a field of STEM educators, seeking ways to teach our kids more stuff,...
The Classical Christian Report is coming soon.
The field of astrophysics seeks to understand how the universe began and has...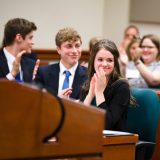 In May, the National Mock Trial Championships in Boise, Idaho crowned a new...