Winter 2016
Four stories from the Philadelphia area
Last year, the ACCS president saw log-cabin schools in Virginia, schools with hog traps in Texas, and schools that look more like college campuses. (In fact, one of them had taken over an ex-college campus.) He's seen schools surrounded by high-rises and schools in church basements. He even saw one school with no building at all—operating in a church lobby until another facility became available. But, they all share their distinctly classical Christian form while they serve families as diverse as America.
Recently, he visited four schools, all within a two-hour drive of Philadelphia, that represent four very different stories with four very different school bodies. Is classical Christian education a fit for anyone? It seems there's a pretty good chance the answer is yes. If not, start one! The ACCS is here to help.
---
■ URBAN RENEWAL MEETS CLASSICAL RENEWAL
Philadelphia Classical School
Just a decade or two ago, "inner city school" meant serving underprivileged kids in a tough setting. That still can be true, and some classical Christian schools serve this mission. But Philadelphia Classical School is one of several ACCS schools thriving on urban renewal. They have a roughly even mix of underserved students from the inner city, and working families who live in the city. This mix of students and families provides an environment where parents are united around the philosophy of education and a love of Christ. While their facility may result in a few compromises (they have no playground or outdoor space), the beautiful historic cathedral in the downtown area combined with amazing historic field trips just a few steps out their front door, provides an experience you'll find at few other classical Christian schools.
During one recent field trip, a man dressed as George Washington walked into a historic Quaker meetinghouse where PCS students were waiting. He launched into his act which included running the children through military drills. At the climax of his performance, General Washington began to recite the Declaration of Independence. The students barely missed a beat and joined him in the recitation. Their voices echoed throughout the building. Other tour guides and people stopped to listen. The best part was when George Washington came to the end of his recitation but the students knew more and kept going. The docents are always happy to see PCS students return.
---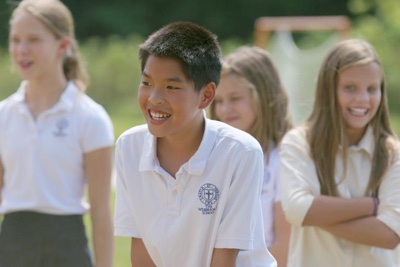 ■ COLLEGE-TOWN CHRISTIANS
The Wilberforce School
When you think about it, academic excellence makes sense in a college town. Classical Christian education returns to the idea that the author of all truth (Jesus Christ) might have something to say about finding truth (the ostensible purpose of higher education). College towns tend to be full of "academics." And, regardless of the area of expertise, many college professors appreciate the strength of classical Christian education. "We chose Wilberforce because we were attracted to the school's commitment to both academic excellence and an intellectually robust Christian worldview which is lacking in most schools. We also liked the focus on seeing the world as a result of a Creator who has given our children the facility to learn about it through nature studies, art, history, and literature … and to ultimately be a committed follower of Jesus Christ." Jonathan Chun, Ph.D. (Princeton, Physics)
---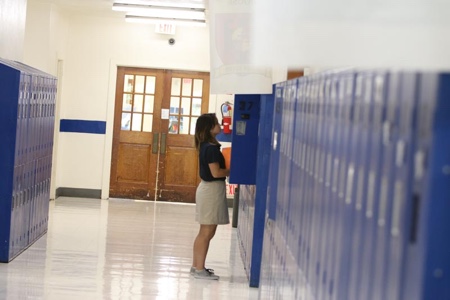 ■ HOMETOWN: TRANSFORMED BY THE RENEWING OF "SCHOOL"
Coventry Christian School
Buses come and go from the 50's era public school building repurposed as a classical Christian school, centrally located in the suburban-belt town of Pottsville, PA, outside of Philadelphia. Coventry Christian School serves over 300 students in a building that also tells the evolving story of education for the past half century. After its days as a public school building, the facility was sold to Coventry Christian, founded over 30 years ago as a standard Christian school.
The school's hometown feel is reinforced when you meet John Mark Niehls, the school's headmaster. Niehls' father started the school, and John Mark attended from an early age. He even met a girl in the third grade there who is now his wife! But, in 2009, the school's leadership decided it wanted better integration of its history and literature programs. This pursuit opened up the world of classical Christian education for John Mark. After a trip to the annual "Repairing the Ruins" conference on classical Christian education, Niehls decided it was time to overhaul the school into a classical Christian school. No small task.
The vast chasm between conventional education and classical education is hard to bridge. More than simply retraining teachers and buying new textbooks, a classical conversion requires the overhaul of just about everything. Teachers need to be immersed in a whole new philosophy of education. The methods, classrooms, and practices are very different, which requires vigilance. Many schools that convert mistakenly believe that adding Latin, great books, and Socratic discussion to the curriculum will move a school to the "classical Christian" column. Mr. Niehls realized that Coventry had its work cut out for it. Any change this radical would require a lot of effort.
Now, in about the sixth year of the classical transformation, Coventry is looking very much like, well, other classical schools in the ACCS. It serves a suburban family mix. Many of the parents first came to Coventry for Christian education. But what they've found is a new form of ancient education that makes sense, wherever you plant it.
---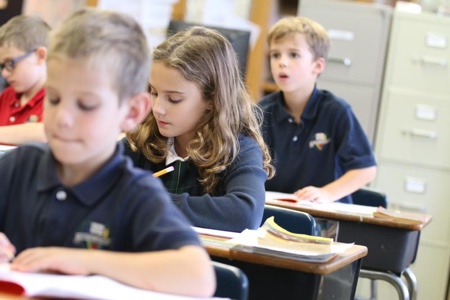 ■ OLD SCHOOL IN AMISH COUNTRY
Veritas Academy
In the early morning darkness, the path to school for Ty Fischer's family leads through covered bridges and around horse-drawn carriages in the rolling hills of Pennsylvania's Amish country. It's understandable in this small-town setting that classical Christian education would thrive. But few classical Christian schools in America are as established as Veritas Academy in Lancaster, PA.
Veritas' founding family was one of three original board members of the association that publishes this magazine.
Also from that seed has grown the largest curriculum provider dedicated to classical Christian education. The 280 students at Veritas come from wide-ranging backgrounds. The surrounding area supports farmers and bankers, academics and entrepreneurial start-ups. They serve just about every type of student in the famed Lancaster county.
Veritas celebrated its 20th anniversary as a classical Christian school on September 9th. They've always been a classical school, so the celebration expressed the depth and diverse lives of their alumni. We'd like to say that's a big group, but classical Christian education has always been a grassroots movement. So, the alumni are an intimate group. But it was abundantly clear, at least to us, that they are making a big impact on our world in just about every type of role. Sure, if you visit their campus, you may note that it shares a building with the police department and several other municipal departments. But, God's work, and His schools, grow where they're planted.
---
Our growth means the stories keep coming—these four Pennsylvania schools are examples of what's happening around the nation. While we see the trivium, Latin, great books, and enthused teachers throughout, the most surprising thing is the constant level of excellence. These places are noticeably distinct and very different from other types of schools. Serving many different parent and student needs, they all have similar approaches where it counts—in the classroom.