THE NATIONAL ACCS ORATORY COMPETITION
---
Each year students from ACCS member schools have the opportunity to participate in the Chrysostom Oratory Competition, where they present their senior thesis. The senior thesis is the culmination of four years of work, and is required for high school graduation. The students present and defend their thesis before a panel of faculty at their school, after which they can enter it in the Chrysostom Oratory Competition. The first and second place winners of the competition receive a prize of $500. The first place winner also presents their thesis in person at the Repairing the Ruins Conference.
CHRYSOSTOM MEANS "GOLDEN MOUTHED" IN GREEK. John Chrysostom (St. John in the Eastern Orthodox, Catholic, and Anglican churches) began his life in 349 in Antioch and died on his way to exile in 407. He was most notably Archbishop of Constantinople. So effective was his speech that he could contain city-wide riots and influence the highest levels of royalty. But it also got him exiled by those his rhetoric offended. In his initial exile, his letters continued to stir the hearts of those who heard them, so he was banished to the farthest extremities of the empire in an attempt to make hearing him impossible. Chrysostom spoke the truth with uncompromising beauty, and the power of his words continues to affect the world today.
The 2022 First Place Chrysostom Oratory Competition Winner
Mary Blake Fletcher, from Westminster Academy, Memphis, TN, presented her winning thesis, "Persuasive Technology: The Cigarette of the 21st Century" at the Repairing the Ruins conference, June 2022, in Frisco, TX.
---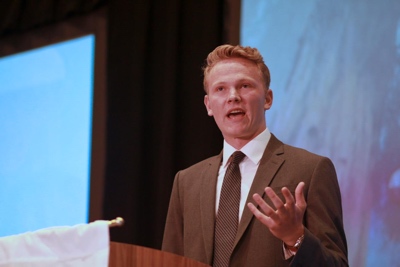 The Chrysostom Oratory Contest was, in many ways, the culmination of my education. It was the final demonstration of my ability to think clearly and communicate effectively. It proved to me that the classical Christain model truly does produce students who are capable of powerful rhetoric.—Abraham Martin
2018 Chrysostom 1st place winner, School of the Ozarks, Point Lookout, MO
---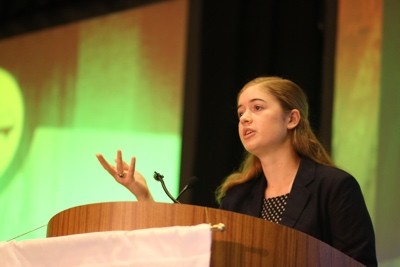 If anyone asked me two years ago whether I would be willing to speak in front of over 1,000 people, I would have responded with a hearty "no." … I can now say that I enjoyed the experience and would recommend participation to everyone, especially those who do not consider themselves good public speakers. —McKinley Traylor
2018 Chrysostom 2nd place winner, Trinitas Christian School, Pensacola, FL