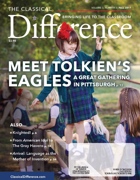 Send the magazine to a friend or donate!
The Classical Difference is supported and driven by donations.
Help us make sure it gets into the hands of families that need to know more about Classical education.
The Classical Difference Continues to be free to families of Classical Christian schools!
Encourage, entertain, inform, and unite the classical Christian community, and help the growth of classical Christian schools.
Other ways to support the Classical Difference