CNN
By Ryan Prior
CNN recently reported on a unique way one grandfather is helping his grandkids to get a classical Christian education — The Grandfather Express.
The Hayes have five children and 10 grandchildren, ages two to ten, all of whom live within 20 minutes of the couple.
Five of the grandkids are old enough to attend school and all five go to the same school, Paideia Classical Christian School, in Gladstone, where the family lives. Next year, two more will attend the school.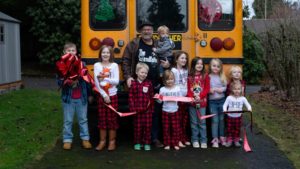 Doug and Amy are already very involved in their grandchildren's lives. They have family dinners many Thursday nights and Amy works at Paideia Classical Christian School (though she said Friday that teachers have to get there much earlier than students, so she doesn't get to ride the Grandfather Express) . . .
Read full article: "A man's gift to his 10 grandkids? A bus to take them all to school each morning"