Drink Deep
405 S Main Street | Moscow, ID 83843 | Phone: (208) 882-1566
---
We asked. They answered. Read their full response below. Keep in mind that these responses are conversational in nature, and do not necessarily reflect the official policies or standards of the school or the ACCS.
What makes this college/university experience unique?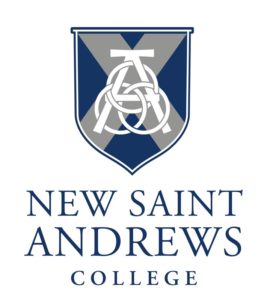 New Saint Andrews Distinctives
• Student/teacher ratio 13:1
• 80% of our students receive private scholarships from NSA
• Tuition one of the lowest in the country for a 4 year private college
• Our liberal arts degree allows students to successfully work in the fields of law, business, economics, education, ministry, writing, teaching etc.
• Protestant and Reformed in our practice of the Christian Faith
• 100% of our students live in the community in either family homes or apartments with other students
• No Federal funding accepted to keep the pursuit of our vision uncompromised
Do you offer any of the following: Great Books courses, Great Books programs, Latin or Greek studies, classical Christian teacher courses?
Language Study
Because Greek, Latin, and Hebrew are the formative languages of Western Christendom, our students learn one or more of these languages to at least an intermediate level of proficiency. B.A. students are required to take three years of classical language study and A.A. students take two years. Students study Latin, Greek, and Hebrew not as "dead" languages, but as active, oral experiences that bring the ancient world alive. The active study of classical languages is important not just for ciphering ancient texts, discovering English word origins, or thinking in the framework of another culture, but a time-proven method of intellectual discipline essential for a broad and nuanced handling of all forms of thought and expression.
CLASSICAL CHRISTIAN STUDIES (CCS) for Teachers
The Classical Christian Studies graduate program at New Saint Andrews College offers a strong liberal arts foundation for mature students. The program is perfectly designed to help teachers and administrators master what they teach. The CCS program's distance education approach provides personalized interaction with faculty at New Saint Andrews.
Do you have any comments specifically for classically educated students?
The majority of our students come from a classical education background. We find them to be particularly prepared for this next step in their education and New Saint Andrews in particular. We offer up to $3,000 in scholarships per year to each student coming from an ACCS high school.
40% of our students come from ACCS schools. Some of our top schools include:
The Ambrose School
Cedar Tree Classical Christian School
Logos School
The Oaks: A Classical Christian Academy
Providence Classical Christian School, WA
Regents Academy, TX
Tall Oaks Christian School
Trinitas Christian School
Veritas Academy, PA
Veritas Press Scholars Academy
What is your mission/vision statement? How do you ensure your faculty maintain your vision?
Our purpose at New Saint Andrews College is to graduate leaders who shape culture through wise and victorious Christian living. Our mission is to provide young men and women with the highest quality undergraduate and graduate education in liberal arts and culture from a distinctively Christian and Reformed perspective, to equip them for lives of faithful service to the Triune God and His Kingdom, and to encourage the use of their gifts for the growth of Christian culture.
The faculty at New Saint Andrews is a close community of faithful Christian scholar-teachers. They have strong academic credentials and teaching experience in their respective disciplines, of course, but more importantly, as Christian spouses and parents themselves, they cherish the responsibility and privilege of nurturing the next generation in the paideia of the Lord.
Testimonials
NSA is hugely important for success in the business work—even more important than a business degree. Learning how to think and communicate in uncharted territory is critical.
–John Lewis ('04) Vice President, Goldman-Sachs
I'm so thankful for the education I received at NSA. It has not only drastically strengthened my beliefs, education, and work ethic, but has also taught me how to fully apply them in every single area of my life.
–Maddie Williams (2016 alum)
Highlights
 Life Beyond College Series
 accredited by the Transnational Association of Christian Colleges and Schools
 recognized by the U.S. Department of Education
 recognized by the Council for Higher Education Accreditation
 recognized by the Idaho State Board of Education
 a member of the Association of Reformed Colleges and Universities
 a charter member of the Association of Classical Christian Schools
 an affiliate member of the Council for Christian Colleges & Universities.