Spring 2017
Deep Waters
Ben and Emma Hopkins and Ethan Chaffee aren't afraid of deep water or hard work.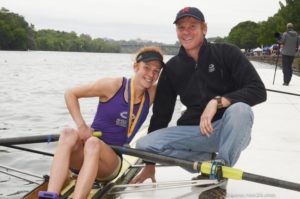 Last spring, the three high school rowers from Augustine Classical Academy, NY, entered the Stotesbury Cup in Philadelphia, PA, the largest scholastic rowing regatta in the world. For a small school, surviving the heats to advance to the semis is a big accomplishment.
Last May, however, Ethan (11th) and Ben (10th) stunned the high school rowing field, beating 50 crews from all over the country to secure the Stotesbury Cup in the Junior Double. An hour later, Emma Hopkins ended her high school career with a silver in the Varsity Girls Single. Emma would go on to win a spot on the U.S. Under 23 National Rowing Team a month later, and currently attends Princeton University where she rows on the Lightweight Women's team. Ethan is currently being recruited by the U.S. Naval Academy and the University of Pennsylvania, while Ben is just launching into the recruiting process and the two boys are looking forward to a chance to repeat their victories this May.
The boys nearly lost their lead in the last 100m of the final when the stroke (the pace-setter nearest the stern) slipped off his seat in the fury of the final sprint. Their five-second lead burned down to one second, as they crossed the finish line right in front of a hushed grandstand. Augustine also has middle school rowers who perform remarkably well, winning races and outperforming teams from much larger public schools in their region. Instead of buying new, they find used, free equipment, and rebuild it.
How are kids from a tiny start-up able to keep their cool and beat out teams from much larger and more established schools? According to Matt Hopkins, Augustine coach and headmaster (and Emma and Ben's dad), it comes down to a great foundation. "You can build anything on a solid foundation, and the families and staff of Augustine are busy building such foundations into their students every day."