How My Education Paved My Way
By Rachel Wallen Oglesby
When I graduated from Rockbridge Academy (Crownsville, MD) in 2012, I had no idea how much my education would help me advance in the professional world. Now, 10 years on, I serve as chief of policy for the best governor in the country, Kristi Noem in South Dakota, and it is clear to me how much my education uniquely prepared me for this job.
For starters, since graduation I have spent my time working in and around the political world, and that means public speaking. In school, I struggled immensely with public speaking and got very nervous every time I had to speak. But in almost every class, my teachers found opportunities for all of us to practice, and slowly but surely—over the course of many years—I started to become comfortable speaking to groups and even developed tips and tricks to make my speeches effective.
Today, I frequently testify in front of legislative committees, provide policy updates at state cabinet meetings, and speak on behalf of the Governor to legislators, lobbyists, and local leaders. I entered my career with a level of public speaking ability that I could never have imagined when I started high school, and I am thankful on a regular basis for this unique component of classical education.
Secondly, my education honed my writing abilities, teaching me to write concisely and make my points clear and easy to understand. My teachers insisted that we create an outline before we started writing to make sure our arguments were well-structured and supported. To this day, I still outline my thoughts before putting pen to paper. Now, I write memos about complicated subjects in a way that is easy to understand. I draft testimony, letters to elected officials in Washington, and even emails that make my ask or argument clear.
Finally, and perhaps most importantly, my classical education made it possible for me to both develop—and advance—a clear and consistent worldview. Through our philosophy, logic, and rhetoric classes, we learned the different ways of looking at the world and the assumptions that are built into any perspective. During our senior year, we took a class on current events that allowed us to start applying these ideas to what was actually happening in the world. This gave me a huge head start in understanding not just what was going on, but why it was happening—and the philosophical foundation behind different proposed solutions.
In South Dakota, state government consists of 20 different agencies that cover areas like agriculture, education, finance, healthcare, and public safety. Part of my job is to ensure that everyone is rowing in the same direction. There's no way I can be an expert in all of these different fields … but my classical education has helped me develop and articulate clear, consistent principles that I can apply in a range of situations.  This helps me ask the right questions and provide the right guidance to make sure we're leading a government that respects the rights of the people and gets out of the way as much as possible.
I am thankful every day for the opportunity to wake up and do the job I'm doing.  And I know without a doubt that I would not have had this opportunity without the skills my education taught me.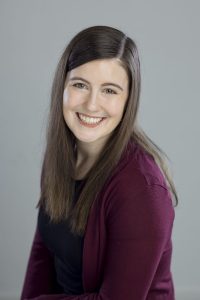 Rachel Wallen Oglesby serves as Chief of Policy in the South Dakota Governor's Office and is a member of the Governor's executive team. She oversees the implementation of the governor's agenda across all policy areas and state government agencies. She grew up in Maryland, graduated from Rockbridge Academy and Wake Forest University, and holds a master's in public policy from George Mason University.