Spring 2018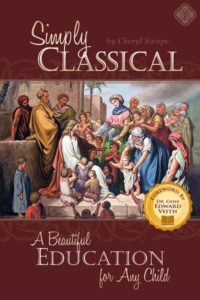 I
also knew it was not due to my own teacher training, because as I explain in Simply Classical, I had failed in other settings with "progressive" education. A classical Christian education can bring an exemplary education to any child. When my daughter said to me, "Mom, I want my story to help other children like me," I knew I needed to write the book. Parents worry that their struggling children will never learn to read, never receive a good education, or never find joy in learning. We invite everyone to join our efforts in bringing a Christian classical education to as many children as possible. Students with special needs might not progress as far as same-age peers, but because a classical Christian education is rich and advanced, emphasizing truth, goodness, and beauty, the benefits of an exemplary education remain. Ours is not an elitist endeavor; ours is a human endeavor. —CHERYL SWOPE, Author of Simply Classical
"A classical education is like climbing a mountain, each child benefiting from whatever vistas he or she attains in that upward journey. … Simply Classical gives encouragement and real help for all parents … and has advanced the cause of classical Christian education by confounding its critics who claim it is only for the elite." —Mrs. Cheryl Lowe, founder of Memoria Press, in her review of Simply Classical: A Beautiful Education for Any Child
PROGRAMS
Clare Kozushko, a former fifth grade CCE teacher, is now an expert in alternative learning programs and runs the Thrive Center in Newberg, OR. She offers these suggestions. While none of these programs are modified for the CCE model, each of them enables students to better manage the specific coursework and expectations.
PACE: A great place to start, specifically targeted at kids who are slow to complete work.
Find a provider. | PACE Home Page
NILD: Resources for every learning disability.
BARTON READING AND SPELLING SYSTEM: Designed for kids with low reading comprehension and spelling skills.
THE LISTENING PROGRAM: Depending on the severity of the need, this program may be best used in conjunction with other programs. This program helps with focusing, attention disorders, anxiety, and Asperger's.