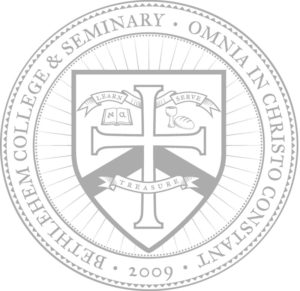 Bethlehem College & Seminary | 720 13th Avenue South | Minneapolis, MN 55415 | 612-455-3420
---
We asked. They answered. Read their full response below. Keep in mind that these responses are conversational in nature, and do not necessarily reflect the official policies or standards of the school or the ACCS.
What makes this college/university experience unique?
Bethlehem College aims to give students an intense immersion in a God-centered, Christ-exalting, Bible-saturated local church that combines rigorous study with church-based application, all to the end that students might joyfully magnify the infinite worth of Jesus Christ, and live for the praise of God's glory in affection, thought, word, and deed.
Bethlehem College offers a unique educational experience in its curriculum, pedagogy, class structure, and church and community context.
Curriculum. Bethlehem College's two-year Omnia curriculum is oriented historically, helping students grasp the history of ideas by interacting with many of the great works of Western civilization in their contextual development. Our aim is to challenge students to think biblically and confessionally about history, literature, and philosophy, eliciting student participation through careful discussion of texts in the classroom.
Pedagogy. Our institution, our church, and our lives are built on the conviction that the Triune God of Scripture reigns supreme over all of reality. As such, all genuine knowledge and wisdom begins with the fear of the Lord. Therefore, we self-consciously seek to pursue all knowledge and learning in humble dependence upon God for the sake of his name. All of our undergraduate programs are built on this fundamental conviction.
Arising from this foundational commitment is our belief in the integration of all knowledge. We believe that everything is related because everything is related to God. Therefore, all of our undergraduate programs seek to enable students to make connections across various disciplines and fields of inquiry, and to bridge the gap between the subject of their study and their own lives. These fundamental convictions have led us to adopt a holistic approach to education. We build into our students habits of mind and heart that will be with them for a lifetime of ongoing growth. The well-educated person has the habits of mind and heart to go on learning in a Christ-exalting way for the rest of his life—in whatever sphere of life he pursues.
These habits of mind apply to all objects in the world, but most importantly the Bible. We aim to enable and to motivate the student to:
• observe his subject matter accurately and thoroughly
• understand clearly what he has observed
• evaluate fairly what he has understood by deciding what is true and valuable
• feel intensely according to the value of what he has evaluated
• apply wisely and helpfully in life what he understands and feels
• express in speech and writing and deeds what he has seen, understood, felt and applied in such a way that its clarity, truth, and value can be known and enjoyed by others
Class structure. Incoming freshmen are assigned to cohorts of 12-15 students with whom they will study and interact for the first two years of their college experience. Each cohort is assigned a faculty tutor who serves as instructor, advisor, and mentor to his cohort over the first two years. Trust, "known-ness," and accountability enable students to challenge one another to grow spiritually and intellectually.
Church and community context. Like obedience to Christ, academic study engages more than a student's mind; it engages the whole person. Bethlehem's location in the Twin Cities and its integration into Bethlehem Baptist Church enable us to continue the educational experience outside of the classroom. Students in Bethlehem College participate in a vibrant community that begins with fellow classmates, extends to other students, and then to the wider Bethlehem community. This community exists for the sake of God's mission through Jesus Christ to redeem the world. Mentorship, small groups, church ministry, service in the community, and experiential learning opportunities are all integral components of the undergraduate program, making it a truly unique educational experience. Students completing this program will be widely-read, well-grounded in their faith, and equipped to make a difference in today's global society, whatever major or career path they choose.
Do you offer any of the following: Great Books courses, Great Books programs, Latin or Greek studies, classical Christian teacher courses?
Bethlehem offers four undergraduate programs:
• Associate of Arts
• Bachelor of Arts in Biblical and Theological Studies
o Exegesis Concentration or
o Cross-Cultural Ministry Concentration
• Bachelor of Arts in History of Ideas Bachelor of Theology
The two-year Associate of Arts follows our Omnia curriculum, which exposes students to many of the great works of Western civilization in chronological study. After completing Omnia, students have the opportunity to earn their bachelor of arts in the history of ideas, a Great Books degree program that takes a more in-depth look at the most seminal works of philosophy, literature, history, and theology.
The second year of the Omnia curriculum introduces students to biblical Greek, a subject they will continue to steady if they pursue either of the bachelor of arts degree options. Students graduating from Bethlehem College with a bachelor of arts will be able to demonstrate competence in New Testament Greek and exegesis.
The History of Ideas major trains students to synthesize ideas from a range of disciplines, including philosophy, theology, history, literature, and the arts by examining the Great Books. Throughout the program, all ideas found in the Great Books are measured against the Person found in the Greatest Book.
Do you have any comments specifically for classically educated students?
Bethlehem College's classical approach to liberal arts education makes the school an excellent fit for classically educated students. Increasing the number of students from classical Christian high schools would create a smoother transition for first-year students encountering Bethlehem's classical model.
Tell us about some events or activities.
Bethlehem College hosts several traditions throughout the academic year, including a welcome picnic, bonfire and barn dance, Christmas party, and ping-pong and dodgeball tournament. In addition to these annual traditions, students have the opportunity each semester to engage in seminars, conferences, service projects, community outreach, and a host of other events organized through the school and Bethlehem Baptist Church.
What is your mission/vision statement? How do you ensure your faculty maintain your vision?
Under the authority of god's inerrant word, Bethlehem College & Seminary exists to spread a passion for the supremacy of God in all things for the joy of all peoples through Jesus Christ by equipping men and women to treasure Christ above all things, to grow in wisdom and knowledge over a lifetime, and to glorify God in every sphere of life.